A photo exhibition about border walls worldwide, covering 1100 square meters or 370m of a Peace Line from 27 September until 15 November, 2019
Opening Friday 27 September, 2019
Noon: Artist walk & talk
4 – 6 p.m.: Opening
Peace Line, Cupar Way · Belfast BT13, 2RX
WALLonWALL depicts 36 panoramas at 3m x 9m by photographer Kai Wiedenhöfer
who has taken pictures of 10 border and separation walls in the EU, the USA,
Korea and other countries since 1989. The exhibit marks 50 years since the building
of the first Peace Line in Belfast and 30 years since the fall of the Berlin Wall.
The open-air exhibition is accessible 24/7 without any fees.
Initiators: Clonard Mid-Shankill Initiative
Kai Wiedenhöfer · www.kaiwiedenhoefer.com
A project of: MW photoprojects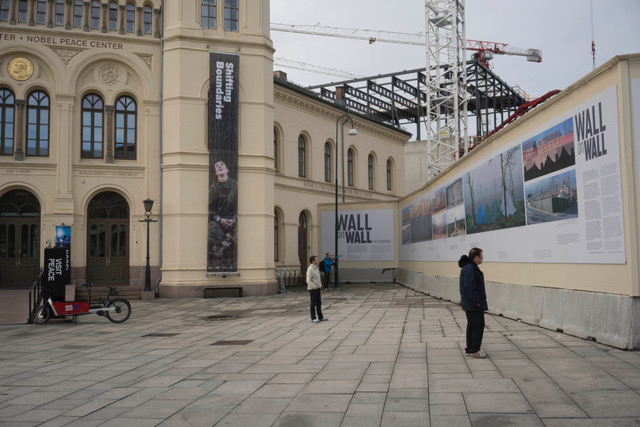 WALLonWALL in front of the Nobel Peace Center in Oslo
13 Oct 2017–18 Mar 2018
Brynjulf Bulls plass 1, 0250 Oslo, Norwegen
Guided tours Saturday and Sunday:
14.00 (Eng)
15.00 (No)
More information at the Nobel Peace Center website
If you want to buy an autographed and stamped copy of CONFRONTIER by Kai Wiedenhöfer – A book about eight borderwalls worldwide.
Book layout: Dirk Fütterer & Daniel Schilke
Steidl Publishers November 2013 ISBN 978-3-86930-550-9
Format: 22,5 x 32,5cm / 128 photographs
184 pages with 8 gatefolds 85,8 x 32,5cm, paperbound hardcover with foil embossing.
Please do contact me here.
Price: 40 Euros
Limited numbered edition of 40boxed books with a 22x30cm archival fibre print from the fall of the Berlin Wall 1989 for 300 Euros.
Shipping:
Germany: 4,10 Euro
Europe: 8,90 Euro
World: 11,00 Euro
Payment by bank transfer in the EU, world by paypal.
WALLonWALL was a photo exhibition on the Berlin Wall about walls that separate people worldwide.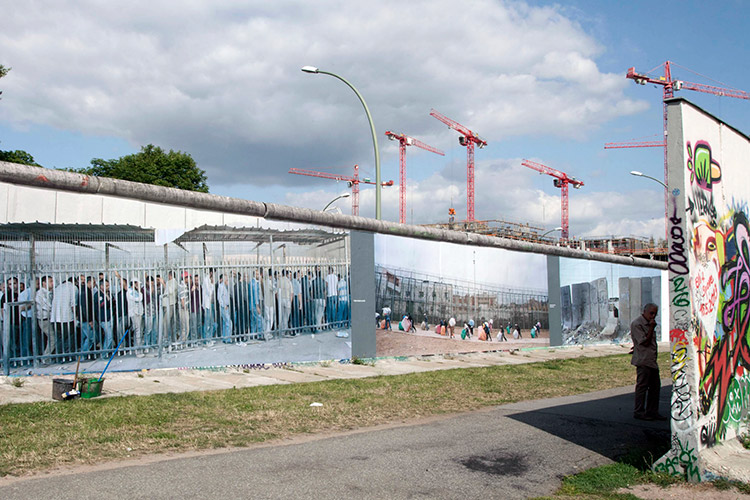 The open air exhibition : 10, July till 10, November 2013.
Admission was free for everybody 24 hours a day, 7 days a week.
Berlin Wall, Mühlenstraße – 12043 Berlin-Friedrichshain
(WestSideGallery, riverside of the East-Side-Gallery, opposite of the O2 Hall)
Since 2006 Kai Wiedenhöfer has photographed eight border and separation walls:
Baghdad [700 km]
South-Korea | North-Korea [248 km]
Cyprus | Greenline [180 km]
USA | Mexico [3141 km]
Ceuta and Melilla, Spain | Marocco [8+13 km]
Israel | Occupied Palestinian Territories [703 km]
Belfast | Peace Lines [15 km]
The Iron Curtain | former German – German border [1378 km]
The concept of the exhibition is simple: on the longest remaining part of the Berlin Wall at Mühlenstraße we will glue 364 m of the wall with 36 huge panoramics. Its on the side of wall which points towards the river Spree. The other side of the wall is known as East Side Gallery and one of the touristic hotspots of Berlin.
A World between Walls from Martin Mostert on Vimeo.
Each picture measures 3 m x 9 m. The height is determined through the distance between the base of the wall and the lower part of the tube on top of the wall. All photographs are executed with large format cameras which makes the big enlargements possible. The pictures 1080 sqm and are printed with an inkjet printer on blueback paper and than mounted on the wall with normal wallpaper glue. The panorama photographs are only interrupted by a grey sheet with a caption in English and German.